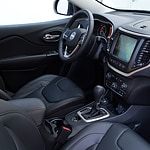 If you are looking to have some serious outdoor fun, then you will want to get behind the wheel of a Jeep Cherokee. This is the popular compact SUV that offers you more. Here are two of the latest capability features that make the Cherokee an unstoppable force wherever it goes.
The Cherokee features a high ground clearance. This allows the vehicle to easily handle obstacles in front of it like rocks, water, snow, dirt, mud, and more. Also, the Cherokee is designed to provide excellent articulation. This allows the Cherokee to master uneven terrain and to go where other SUVs fear to tread.
Get into the brand new Jeep Cherokee and discover how far you can go. We are now offering test drives of the Cherokee at Binghamton Chrysler Jeep Dodge, Inc. in Binghamton, NY. Come see why the Cherokee is one of the top-selling SUVs in the Binghamton area. We're looking forward to offering you a great Jeep deal.