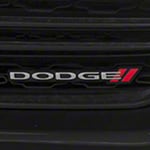 The new Dodge Charger is more than just a popular and powerful midsize sedan. It is also an innovative vehicle that is fun to drive thanks to its impressive interior features.
Unlike most other sedans, the new Charger lets you choose what kind of driving mode to use. You can select from street, track, and sport driving modes to get the speed and performance on any road surface. You can switch among these modes easily with the car's rotary dial.
You can also adjust the steering wheel to your preferences thanks to its tilted and telescopic design. Move it up or down at will to keep your hands comfortable and arms free from strain.
Also take advantage of the Charger's innovative Sirius XM Guardian technology. This interior feature comes in handy if you need roadside assistance or an ambulance. It can make the phone call for you after an accident.