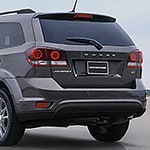 An exciting mid-size SUV from one of the most prominent American automobile manufacturers, the Dodge Journey has been attracting attention for as long as it's been available. Here at Binghamton Chrysler Jeep Dodge, Inc., we're particularly interested in the Journey's technology features, which give other SUVs a run for their money.
The Journey has many features going for it, but we're particularly enthused over the UConnect 3 Nav system, which makes hands-free navigation a reality for you and your passengers. This system will help you see your available routes when on the road, so you'll always know exactly which turns to take. Another feature of the Journey is the premium sound system, which boasts six quality speakers to maximize your musical experience while driving or riding in the Journey.
The Dodge Journey definitely boasts some of the best tech on the market, but don't just accept our word on that - come test drive the Journey here at Binghamton Chrysler Jeep Dodge, Inc.